Yamaha Arius YDP-105 88-Keys Digital Piano with Piano Bench - Rosewood (YDP105 / YDP 105)
Price

RM5,390.00

RM5,990.00

Product SKU
YDP-105R
Brand
YAMAHA
Availability
In Stock
Quantity
Description
Highlight
88 Graded Hammer Standard (GHS) keys provide realistic acoustic piano feel
Detailed, full-stereo AWM sampling provides deeply rich grand piano sound
Volume Limiter keeps volume at a safe level whether its out loud or through headphones
Combine 2 voices together to create inspiring new sounds
Duo mode splits the keyboard into two identical sections — great for student lessons
A variety of preset songs are provided for your listening pleasure
Make adjustments quickly and analyze your favorite songs with the Smart Pianist app
Connect to your computer or mobile device via USB for expanded functionality
Yamaha Arius YDP-105 88-Keys Digital Piano with Piano Bench - Black (YDP105 / YDP 105)
For an authentic piano experience with a taste of modern advancement, the Yamaha Arius YDP-105B has everything you're looking for. New players and seasoned composers alike will enjoy the realistic key response, by virtue of the YDP-105B's Graded Hammer Action (GHS) keybed, while other features like AWM (Advanced Wave Memory) sampling supply you with rich-sounding voices that resonate beautifully from the YDP-105B's high-quality built-in speakers. Beyond the keyboard, you can even connect to the Smart Pianist app, allowing you to experiment with control over different functions and analyzing chord structures in your favorite songs!
ENJOYMENT THAT STAYS WITH YOU
The luxurious tone and expressive ease of playing stays true to the basics of a real piano. It almost plays itself, releasing the sound and music you have within. Start your day with music and a huge smile on your face—the ARIUS piano makes you want to play more and more.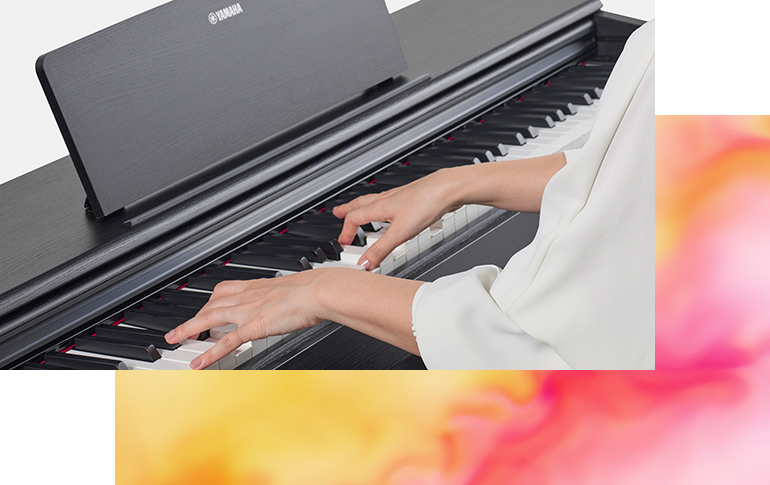 SOUND THAT INSPIRES
The YDP-105 is designed to provide perfectly balanced sound throughout the piano's range, with clear, powerful basses and an excellent tone.
Revel in superb AWM stereo-sampled reproductions of instruments such as a Yamaha grand piano delivered through newly designed speakers in rich harmonic detail that makes any musical endeavor—whether practice or play—a truly inspiring experience.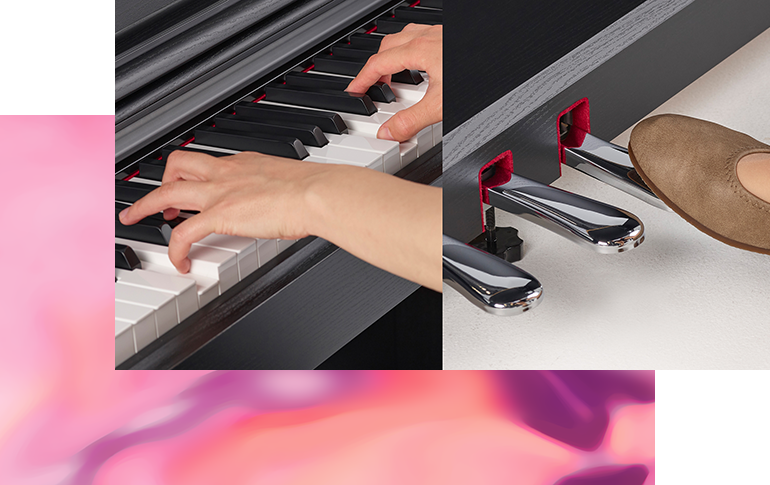 AUTHENTIC ACOUSTIC PIANO PLAYABILITY AND HALF-DAMPER PEDAL CONTROL
With an 88-key piano action, the GHS (Graded Hammer Standard) keyboard reproduces the touch of an acoustic piano, from a naturally heavy feel in the lower key to a lighter touch in the upper octaves. The GHS keyboard provides a grand piano-style response and feel, allowing rapid note repetition and authentic expressive control. Moreover, there's a half-damper feature that authentically replicates the damper action on a grand piano, providing rich expressive variation.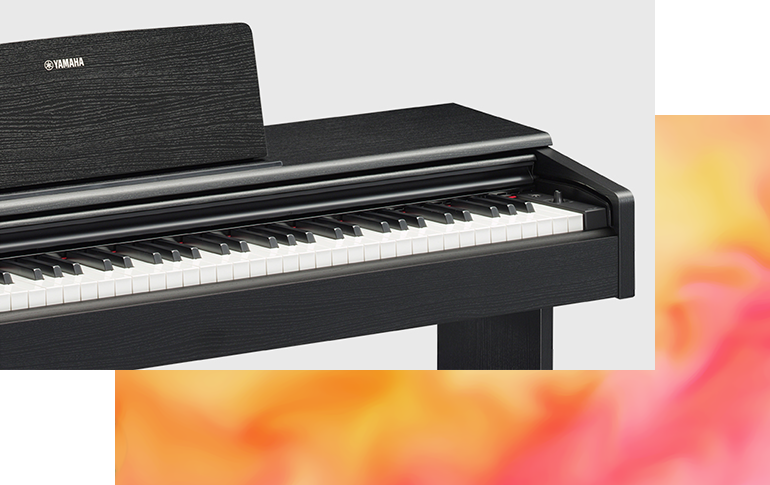 REPRODUCING THE RESONANCE OF AN ACOUSTIC PIANO
Damper Resonance reproduces the broad, deep sound field of an acoustic piano. It also mirrors the tonal changes that result when a damper pedal on a grand piano is depressed. It includes sounds such as those emitted from the key bed and emulates the cumulative resonance that occurs when all of these sounds blend together.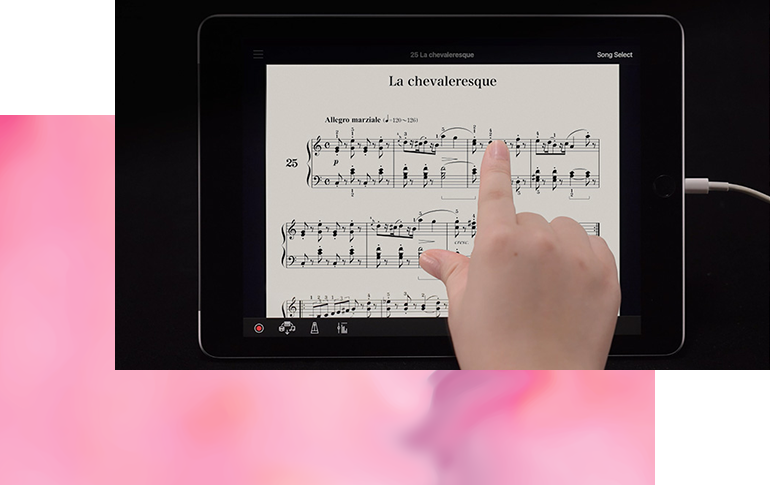 ENJOY BUILT-IN SONGS, ALONG WITH INTUITIVE OPERATION AND SCORE-VIEWING WITH THE SMART PIANIST APP.
The YDP-105 features an authentic grand piano sound, along with other built-in instrument sounds including electric piano, organ, vibraphone, and strings, for a total of 10 Voices, along with 10 famous built-in classical songs.
The YDP-105 is also compatible with Yamaha's free Smart Pianist app—simply download the app to your smart device and connect it to the instrument*.
The Smart Pianist app allows easy operation of the various Voice functions of the instrument and makes it simple to call up a range of scores—including scores for the built-in songs. It also features a powerful Piano Room function for changing the tonal quality and resonance settings of the piano sound, as well as a recording function.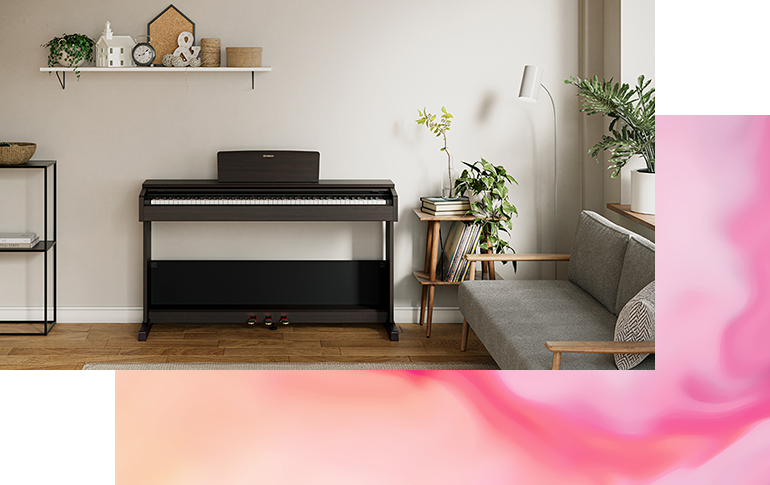 STYLISH DESIGN MATCHES YOUR ROOM INTERIOR
While based primarily on straight lines, the design of ARIUS pianos incorporates elegant curves that are typical of a grand piano. Moreover, you can choose your favorite color to suit your room interior and personal preference.
LIMITING THE MAXIMUM VOLUME
A new Volume Limiter function lets you set a fixed maximum volume level, to protect your hearing from loud sound over the speakers or headphones.
PLAY ALONG WITH A PARTNER – IN THE SAME OCTAVE
This effectively makes the instrument two keyboards in one, letting two players play the same piano sound and octave range side-by-side. This is especially useful when learning with a partner, letting you learn and practice parts together.
FEATURES
88 Graded Hammer Standard (GHS) keys provide realistic acoustic piano feel
Detailed, full-stereo AWM sampling provides deeply rich grand piano sound
Volume Limiter keeps volume at a safe level whether its out loud or through headphones
Combine 2 voices together to create inspiring new sounds
Duo mode splits the keyboard into two identical sections — great for student lessons
A variety of preset songs are provided for your listening pleasure
Make adjustments quickly and analyze your favorite songs with the Smart Pianist app
Connect to your computer or mobile device via USB for expanded functionality
---
SPECIFICATIONS
Number of Keys:88
Type of Keys:Weighted, Graded Hammer Action
Touch Sensitivity:Soft, Medium, Hard, Fixed
Presets:10
Polyphony:64 Notes
Effects Types:Volume Limiter, Reverb
Song Playback:10 Voice Demo songs, 10 Piano Preset songs
Metronome:Yes
USB:1 x Type B
MIDI I/O:USB
Headphones:2 x 1/4"
Pedal Inputs:1 x pedal input
Number of Pedals:3-pedal unit (damper, sostenuto, soft), 2-pedal unit
Built-in Speakers:2 x 4.7"
Amplifier:2 x 6W
Software:Smart Pianist app
Power Source:12V DC power supply
Height:32.08", 38.14"
Width:53.42"
Depth:16.61"
Weight:82 lbs.
---
Dimension Packaging Weight : 58.0 kg
Reviews (0)
view all
back
What's in the box
1 x Yamaha Arius YDP-105 88-Keys Digital Piano with Piano Bench - Black (YDP105 / YDP 105)