Price

RM20,610.00

RM22,900.00

Product SKU
NU1X PE
Brand
YAMAHA
Availability
Out Of Stock
Description
Highlight
The superb natural feel of a real piano action
CFX and Bösendorfer Imperial piano samples
CFX Binaural sampling
VRM (Virtual Resonance Modeling)
GP Response Damper Pedal
Alluring elegance that complements any room
USB Audio Recorder
Product Information
---
NU1X
Traditional sensibility meets modern practicality - A sleek and compact AvantGrand that transcends convention and blurs the lines between acoustic and digital.
The superb natural feel of a real piano action
CFX and Bösendorfer Imperial piano samples
CFX Binaural sampling
VRM (Virtual Resonance Modeling)
GP Response Damper Pedal
Alluring elegance that complements any room
USB Audio Recorder
Overview Video
Concept
A message to Pianists
When do you, as a pianist, feel elation? Is it in that instant when you see a score for the first time, and feel the inspirations of the composer bloom inside your mind?
It might be when you're up on stage playing a grand piano that projects every aspect of your sound, bathed in a shower of applause from an appreciative audience.
Call it accomplishment, call it exultation - we're certain that you've experienced your share of such moments.
But above all, there is that incomparable joy you feel in those moments when you sit at your piano.
Those instants when, threading the fragments of your imagination together as sound, you become at one with the instrument; those treasured moments of delight for all who love the piano, regardless of their skill or experience.
It's why we believe that you can spend so much of your life in front of the piano.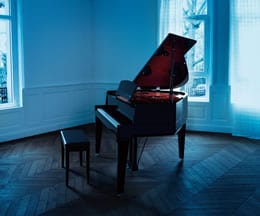 Playing the piano - freeing the pianist of all limitations.
And then, the joy of transforming the act of playing into something new...
To play when you want, how you want, as much as you want.
For those that love the piano, this is an extravagance above all else, something that all pianists yearn for.
In reality playing the piano brings with it many limits.
Beyond the physical issues of time to play and a place for the instrument, there are the fine nuances, particularly with the grand piano, of touch, tone, and reverberation, that contribute to the true thrill of playing the piano.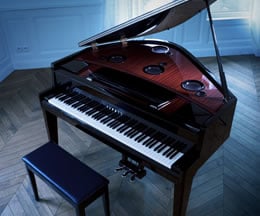 Ideas and technologies that unify tradition and innovation.
A piano evolved for the modern age.
Not creating a piano, but rediscovering one.
This, summed up in a single phrase, was the concept behind the development of the AvantGrand.
Making a so-called "acoustic" piano requires extensive technique and know-how, qualities accumulated through our many years of experience.
However, a major theme in the creation of the AvantGrand involved consciously refraining from relying on this experience.
Rather than designing from a standpoint of what a piano must be, we gave priority to looking at what it could be, searching for the kind of instrument that would suggest a new direction for the piano.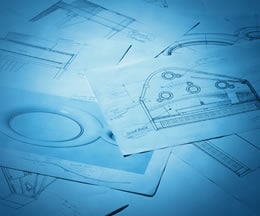 Features
The superb natural feel of a real piano action
The NU1X represents the next evolution in hybrid piano technology melding the Yamaha pedigree of unparalled piano craft with progressive digital innovation. Employing a real acoustic upright piano action that intuitively connects player and piano, the NU1X offers a gratifying dynamic experience. The result is an instrument that not only pays tribute to its acoustic counterpart but exceeds all expectations.
Legendary Piano Samples
To play an AvantGrand means access to the actual sound profile of two legendary concert grands: the Yamaha CFX and the Bösendorfer Imperial. Whether you prefer the bold, expansive palette of the CFX, or the warm, rich Vienna tones of the Imperial, switching between the two is simple.
The authentic feel of a grand piano pedal
The NU1X features a damper pedal that recreates the subtle changes in resistance experienced when using a grand piano pedal. What's more, the NU1X's damper pedal allows you to use the same half-pedal techniques that you would with a grand piano, offering detailed control over sustain and reverberation.
A fully immersive headphone experience
Headphone connectivity wasn't just an added formality for the NU1X. Thanks to our advanced binaural sampling technology, the sound you hear through your headphones is remarkably lifelike. This technology uses piano samples recorded by specialized microphones that capture locational information and other nuances discerned by the human ear. The resulting sound is so natural, so enveloping, that you'll soon forget you're even wearing headphones at all. (CFX Grand Voice only)
An elegant complement to any room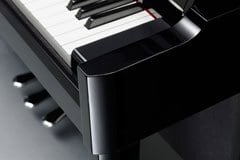 The elegant simplicity of the NU1X blends effortlessly into any setting, adding an air of distinction without being imposing. Inheriting the superb sound and playability of the AvantGrand series of pianos, the NU1X offers the warmth and natural presence of an acoustic instrument in a stylish, compact form.
Intelligent UX and Integration
Behind its simple control panel, the NU1X hosts an abundance of connectivity options for maximum functionality and integration with external devices. It can be connected directly to computers and mobile devices via USB, sound and recording systems via audio cables, act as a Bluetooth receiver, and integrate with iOS apps via WiFi.
Get more with the Smart Pianist App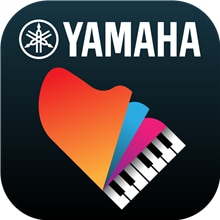 Enjoy the piano more with Smart Pianist, a dedicated app that adds a beautiful graphic interface and a variety of incredible features to your compatible Yamaha Hybrid piano.
Other Feature of Firmware V2.0
Now compatible with USB Audio/MIDI. Just connect with a single USB cable for audio/MIDI playback with a PC or iOS device.
This allows you to record to, for example, Steinberg Cubase series products as audio or MIDI, without purchasing an Audio/MIDI interface separately.
*Cubase series software is not bundled with this firmware, and must be purchased separately.
Smart Pianist V2.0 is compatible with AvantGrand NU1X.

Have you ever tried to figure out what the chords are to your favorite songs?
Smart Pianist app for iPhone/iPod touch/iPad helps you practice and perform songs by analyzing the audio song stored in your iOS device and then displays the chord symbols for you.
And also Smart Pianist allows you to control the many functions included in the piano with your iOS device, for even easier operation.
Smart Pianist ver.2.0
Easy Voice selection and Easy settings
In addition to selecting piano voices, you can use Smart Pianist to adjust parameters such as the reverberation due to degree to which the grand piano lid is open, reverberation from echoes in performance venues, and other factors that affect the sound of the piano.
You can use the layer function to overlay voices, or the split function to play different voices with the left and right hands, playing multiple voices simultaneously to create performances with a pleasingly full sound.
A range of functions such as Transpose, Tuning, Pedal and acoustic settings can be configured easily and intuitively from the touch screen.
*Voice selection and configurable functions may differ depending on the model.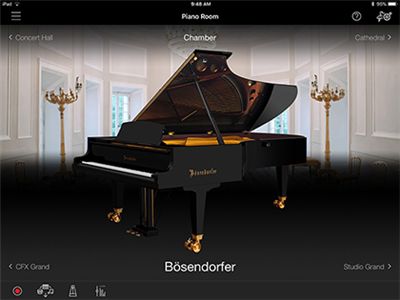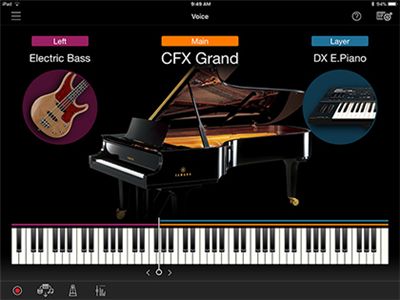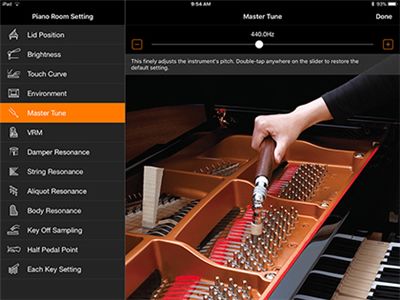 Play your favorite songs right away with chord progression
Smart Pianist can extract chords from Audio that automatically creates a chord progression from audio songs on your smart device, allowing you to enjoy playing along with your favorite tunes.
*In the case of using with Clavinova CSP series, Smart Pianist allows not only Chord progression but also piano accompaniment score.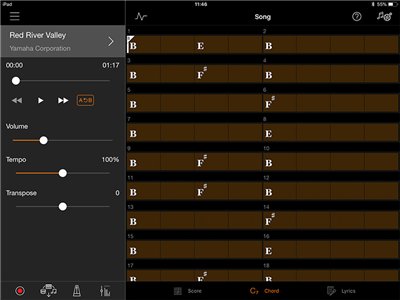 Using SmartPianist together with a AvantGrand NU1X
1. Check that the NU1X instrument firmware is V2.0 or above.
 You can check the details on the V2.0 firmware on the download page. For details on downloaded and updating, refer to the PDF file included in the Firmware folder.
2. There are two methods for connecting an instrument to iOS devices with Smart Pianist V2.0 installed.
A. Connect using a cable
An Apple Lightning - USB Camera Adapter and USB cable (sold separately) are required.
Connect the USB cable to the USB TO HOST port on the instrument.
B. Connect wirelessly using Wi-Fi.*Varies by area
The UD-WL01 (sold separately) must be purchased to use a wireless connection.
Connect the UD-WL01 to the USB TO DEVICE port on the instrument.
Specifications
---
Reviews (0)
view all
back
What's in the box
1x Yamaha AvantGrand Digital Piano NU1X PE (NU1XPE)